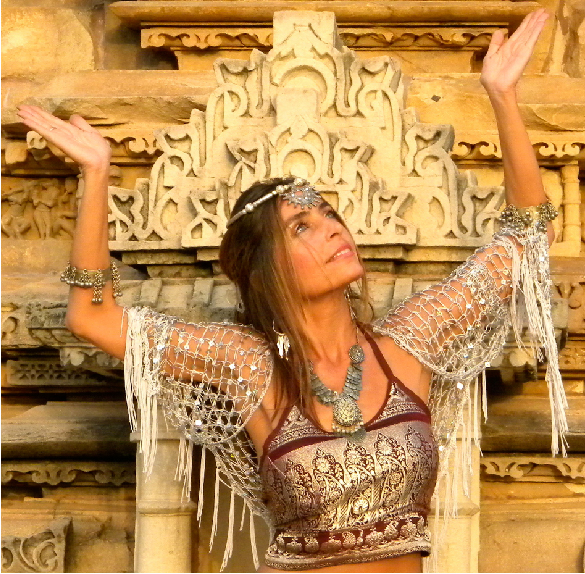 Estaryia Venus
Estaryia Venus is a unifier. She unifies groups through the sacred
language of sound and light. Her ceremonial performances and group harmonizations include her vocal transmissions that have produced healing and spiritual transformations for thousands of people world-wide.
She has traveled internationally for over two decades leading seminars and facilitating 'group harmonizations' at concerts, conferences, and events to unify groups with a vision and amplify the power of the collective intention to assist in Earth's evolution, global balance, unity and sustainability.
A shaman healer, and part Cherokee, Estaryia expresses her unique style of healing chants and dance that honors the Earth and all life. She travels to specific points on the Earth to facilitate alignment ceremonies to activate energy and re-harmonize the planetary grid.
Estaryia weaves her knowledge and background in psycho-acoustics healing music with her ethereal and other worldly vocals, heavenly sound harmonics, and beautiful geometric visuals into her unique performances. Her "multi-phonic" voice, body movements, dance and harmonic sound instruments create a palate of celestial vibrations bringing her audiences into a transformational experience.
Her live performances combine her captivating and inspiring four-octave range voice with her mesmerizing dance and body movements as a part of her multi-dimensional show. She blends the transcendent sounds of her specially made instruments tuned to specific vibrations found in nature to complement her voice and accentuate her free flowing body movement.
Estaryia has performed all over the world on television, at music and film festivals, special events and concerts including the Palace of Fine Arts, World Festival of Sacred Music, California Music Awards, with Michael Narada Walden, Jefferson Starship Reunion concert, Maui Film Festival, Earth Dance and the Visionary Art & Music Festival and countless other concerts and festivals.  Her travels have taken her to ancient sites on Earth where she has performed her sacred chants and was given the opportunity to sing in Chartres Cathedral in France and other cathedrals and chapels in Europe.
In addition to recording and live live performances she leads sound healing rejuvenation seminars and retreats world-wide and has been featured on CBS Eye on America for her transformational teachings with sound healing, movement, meditation and dance.
Estaryia studied acting in NYC at The Acting Studio (Meisner Technique), Stella Adler Conservatory, with Uta Hagen, at HB Studios, and with Terry Berland and Silvia Harmon.
Estaryia has created an array products to enhance wellness and rejuvenation.
"Estaryia's dance performance was truly the highlight of our Jefferson Starship Peace Concert. She manifests a profound beauty, skill and form that bring the primal source of dance and music to life. "
– Paul Schraps, EDEN Productions
Estaryia can be booked for performances throughout the world!
Please contact: contact@estaryia.com
Listen to a few music pieces of Estaryia:
"Wow, Estaryia's voice is amazing. In "Ascension" if you listen closely her voice sounds like an ethereal instrument" – James Haverson
Estaryia's Newest Song